Secondary raw materials and circular economy
Effective recycling and secondary raw materials utilization
---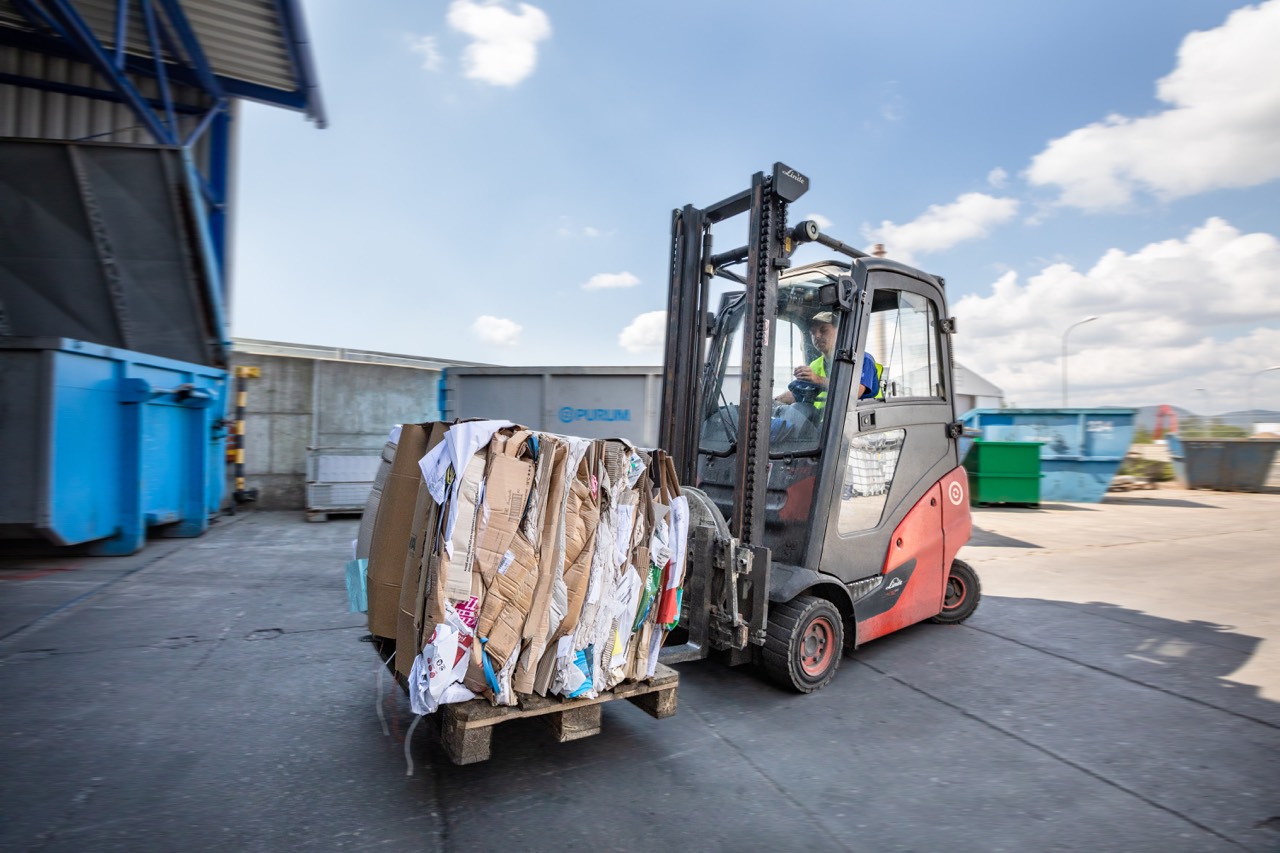 We provide an effective recycling of wide range of waste. We sort and process waste plastics, paper, glass, metals, and non-ferrous metals into secondary raw materials to be reutilized in accordance with circular economy principles. We prioritize recycling and material recovery, which are the most environmentally friendly methods of waste management and one of the main paths to sustainable development. Our specialists will help you determine the recyclable waste components in your production that we can further process at Purum's facilities. We operate various recycling centres for final sorting, processing, and recycling of secondary raw materials all over the Czech Republic. We achieve high recovery ratio; we return the recovered materials to the processing industry, whereby reducing your waste management costs.
Plastics
---
We provide comprehensive recycling of municipal and industrial waste plastics. We specialize in mixed plastics, plastics from yellow bins as well as industrial single-sort and various-sort hard plastics. Foils, ABS, HDPE, PC/ABS, PC, PE, PET, PMMA, PP, PS, and PVC plastics are recycled via advanced technologies into high-quality regrind, regranulate and PET flakes, that can be reused in your production.
Paper
---
We collect and sort wastepaper from companies and cities which is stored in large-volume and blue containers. Paper waste is sorted on a modern sorting line into single types such as cardboard, magazines, mixed paper, and undesirable components to be then treated by pressing and crushing. We achieve 95 % recovery ratio, and we return wastepaper as a secondary usable raw material into circular economy. Sorted and processed paper waste is pressed into bales weighing 1000 kg, which are reused in paper mills, where new cardboard, magazines or paper for hygienic needs are created from them.
Glass
---
We collect glass and glass packaging, which we then supply for material reuse to glassworks, where new packaging is created from them and thus closing the circulation of the product and waste.
Metals
---
We process iron, steel, aluminium, and non-ferrous metals.
Service includes
Help with recycling in your company

Building up of collection points

Providing large-volume containers for municipal waste

Placing Purum´s technologies in your company

Logistic and waste plastics recycling into regrind, regranulate and PET flakes

Logistic, sorting, pressing, and crushing of wastepaper

Collection and material reuse of glass

Processing of metals and non-ferrous metals

Circular economy
We provide effective solutions to our clients from manufacturing industries, logistic centres, industrial companies, cities, municipalities, collecting yards, and waste management companies.